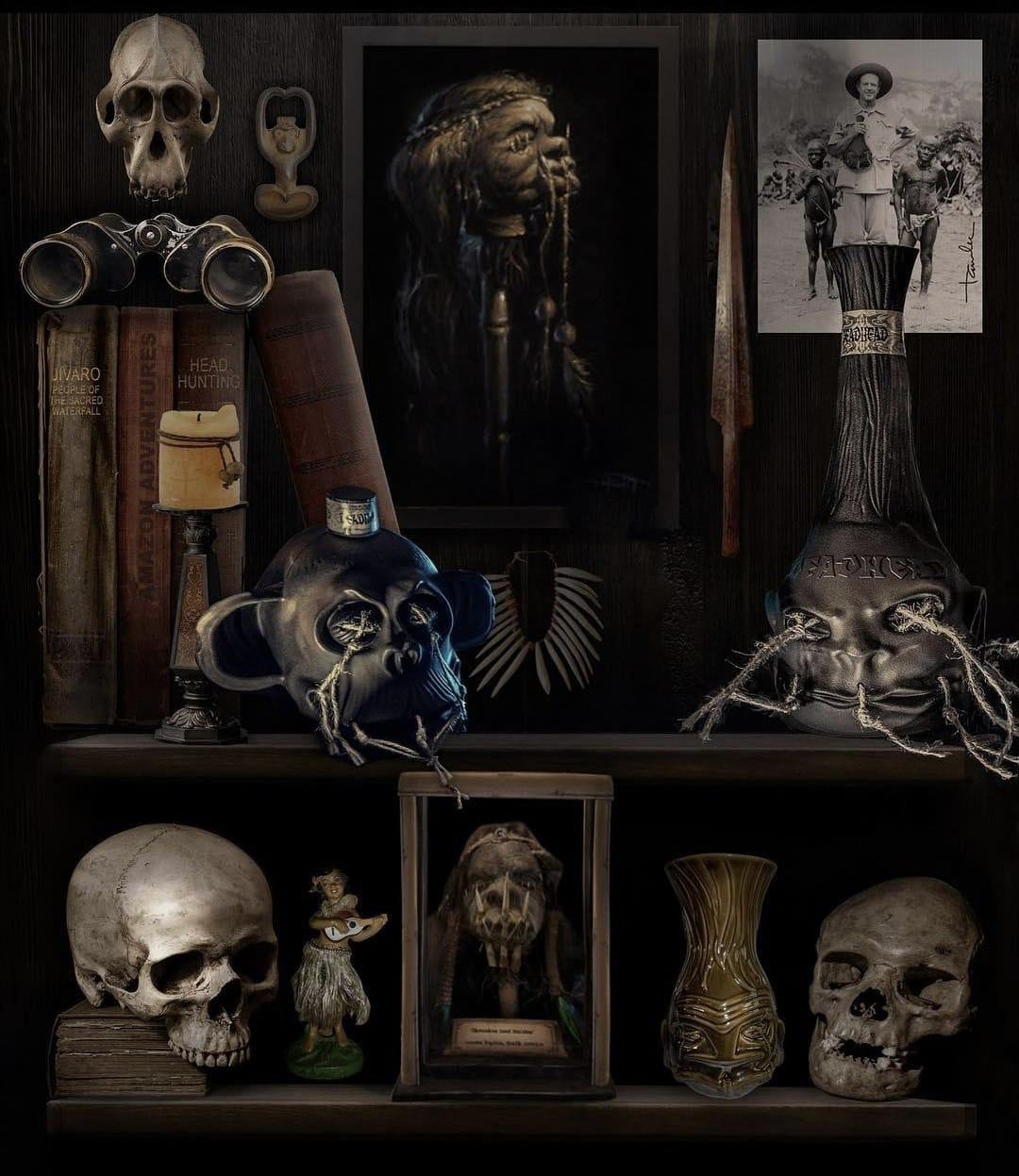 The 6 Most Terrifying Bottles For Halloween
October 25, 2022
by Qantima Group
Bares, Barman, Bartender, Berlin, Blanc De Blancs, Bourbon, Celebrity, Craft Spirits, Creative, Distilled, Dubai, Ecological Wine, Edicion Limitada, Estilo japones, Handcrafted Spirits, Hobbies, Honjo, Japanese Style, Japon Desing, Lifestyle, Limited Edition, Mejor Whisky Del Mundo, Mejores Whiskies, Organic wine, Premium, Restaurante Japones, San Francisco World Spirits, Shop, sushi, Tasuku, Tasuku Honjo, Whisky, Whisky Japanese, Whisky Japones, whisky lovers, Wine
0 comments
 The 6 Most Terrifying Bottles For Halloween
The scariest day of the year, Halloween, is approaching and for this reason, we bring you the definitive list of the spookiest bottles to surprise your friends and family. Enjoy them as part of an original costume, as well as their contents.
Deadhead Rum
 Mexican Deadhead Rum simulates a terrifying Tsantsa trophy of the indigenous Shuar people, which consists of reducing the head of their enemies, thus preventing their soul from returning to avenge their death. According to these beliefs, anyone who holds a Tsantsa acquires supernatural powers and is safe from evil spirits. 
In addition to the imposing appearance of the bottle, you can enjoy the unique taste of the 6-year-old rum, which is born from the fresh juice of sugar cane grown in Mexico; as well as the 5-year-old chocolate rum that ages for more than five years in oak barrels from Chiapas and American oak barrels heavily charred with chocolate.
2. Outer Space Vodka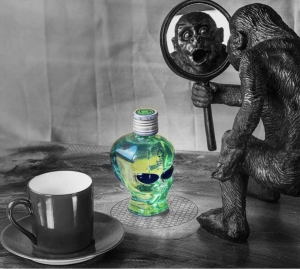 A bottle that is sure to get people talking at a party is the American vodka Outer Space, as it draws attention from the first moment with its green color and alien head shape.

 

The alien will not go unnoticed both at parties as part of your costume, as well as in your home after finishing its contents, as it is a container worthy of collector.

 

It is worth noting not only the shape of the bottle, but also its contents, as this vodka is made in the United States through a careful process of distillation for five times, filtering through 4-billion-year-old meteorites from outer space. This results in a drink of 40º alcoholic volume, made with corn from Iowa, 100% gluten-free.

 

3. Sangre De Vida Tequila Artesanal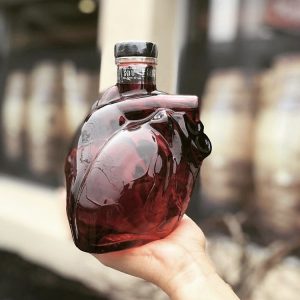 Moving away from the heads, we now move on to other parts of the body such as the heart. 
 Mexican tequila Sangre de Vida is inspired by the 27th card, El Corazón, from the Loteria game in Mexico, accurately simulating a human heart in both shape and bright red color. 
Like the previous two bottles, Sangre de Vida can be used as part of a scary costume or decoration at your party. 
The tequila is made with the utmost care by removing all impurities through a slow cooking process followed by cooling, crushing, and finally squeezing the hearts into a sweet must.
Cosa Nostra Tommy Gun Scotch Whisky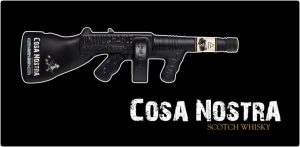 Are you thinking of dressing up as a gangster? Here you have the perfect accessory. 
This scotch brings the shape of the legendary Tommy Gun rifle, widely used in the 1920s, the era of alcohol prohibition, being the favorite weapon of legendary mafia bosses like Al Capone and Lucky Luciano.
 The Tommy Gun is one of the most used weapons in popular culture and appears in video games such as Mafia: The City of Lost Heaven, L.A. Noire, Resident Evil 4 and several games of the Call of Duty saga. He also appeared in countless films and television series such as The Untouchables of Eliot Ness, Once Upon a Time in America or Public Enemies. 
It is a perfect acquisition whether you are a fan of the movies of the 20s, a lover of weapons or simply to take your costume to another level.
Red Army AK47 Kalashnikov Vodka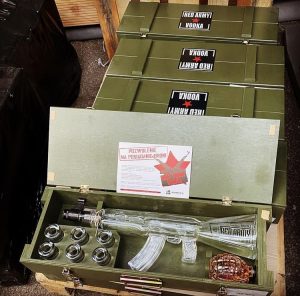 Continuing with the mythical weapons, we present the famous AK47 Kalashnikov, created by Mikhail Kalashnikov, engineer of the Russian army in 1947.
This assault rifle was used by the Red Army in 1949 and decorated by the Order of Stalin. This rifle was used as the official weapon of the armies in the Warsaw Pact countries. In the Korean War it was used by the Chinese army as it was supplied to them by the USSR. 
 This incredible bottle comes in its own wooden box simulating a military case, inside you will find the rifle with a fine and sweet vodka, elegant, crystalline, for demanding palates, with notes of vanilla and honey; a pomegranate with herbal liqueur and 6 shot glasses with the emblem of the Red Army. 
6. Peats Beats Single Malt Scotch Whisky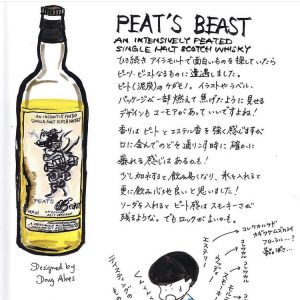 If what you want is a bottle with a great horror story, here is the most beastly of all. As the brand itself tells it:
"There are nastier connotations to the word, but we wanted our beast to have indomitable characteristics … We wanted our beast to hit you, surprise you, intrigue you, … grab you and shake you, hit you in the head a couple of times … but all with a playful glint in its Eye. Knowing that, having scared you all the way, he would lay you down, stroke your head and send you off happy again."
 Both his story and character design is worthy of a great Halloween party, as you can feel his immense power as it pours into your palate like a violent storm. His "natural strength" is untamed and ferocious. Seconds later, however, this fiery, murky spirit soon subsides with the warmth of your tongue. Almost immediately, a calm, stillness pervades as seductive notes of moist banana cake, thick molasses, ginger and cumin finally come into play to give it an unforgettable aftertaste. 
We all have a little beast inside, this one will make it even bigger.
If you want to know more information, you can ask at Qantima Group official email address i@qantimagroup.com
Discover the day to day of our company in our instagram.
Qantima Group, is a company that develops premium brands with a concept of exclusivity, quality and design, since 2012 we strive to bring the best concepts close to you.
---
Qantima Group
Related Posts