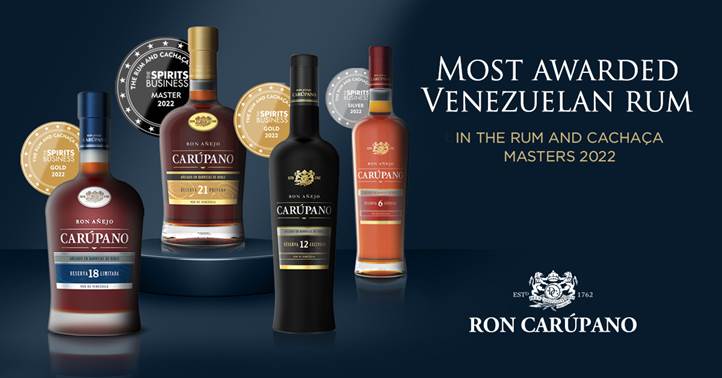 Carupano Ron Other Level
March 6, 2022
by Qantima Group
Bares, Barman, Bartender, Berlin, Blanc De Blancs, Bourbon, Celebrity, Craft Spirits, Creative, Distilled, Dubai, Ecological Wine, Edicion Limitada, Estilo japones, Handcrafted Spirits, Hobbies, Honjo, Japanese Style, Japon Desing, Lifestyle, Limited Edition, Mejor Whisky Del Mundo, Mejores Whiskies, Organic wine, Premium, Restaurante Japones, San Francisco World Spirits, Shop, sushi, Tasuku, Tasuku Honjo, Whisky, Whisky Japanese, Whisky Japones, whisky lovers, Wine
0 comments
Carúpano Rum Other Level
Ron Carúpano, the most awarded Venezuelan rum in
The Rum & Cachaça Masters 2022
Ron Carúpano raises the name of Venezuelan rum by adding four new awards.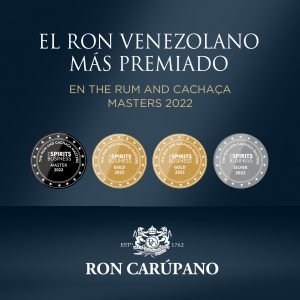 The Rum & Cachaça Masters 2022 contest held in London was the perfect setting for Ron Carúpano to place the name of Venezuela high again, being awarded four medals, becoming the most awarded Venezuelan rum during the competition.
The commercial portfolio of Ron Carúpano is the greatest example of the positive assessment and recognition of the highest quality, which represents Venezuelan rum today. In the competition he was awarded four medals, highlighting the Master medal for Ron Carúpano 21, which was distinguished by judge Jo Killoughery, who highlighted: "Ron Carúpano 21 won the Master award for his strong character but very well achieved."
Ron Carúpano once again raised the name of Venezuelan rum, winning four of the eight awards given to national brands, competing directly with two of them in the categories of Premium Rum and Ultra Premium Rum.
This contest, which is part of The Spirits Business platform, hosted more than 200 brands and 87 companies, breaking participation records and raising the level, for the judges who blindly evaluated all the brands, without seeing the bottle, without knowing the origin or the name of the brand.
The organizers highlighted the increased attendance of rum brands globally, "Rum has been a major talking point in the industry for many years, as it has made significant strides in rewarding and increasing premium rum varieties." , they stated in the official press release of the event.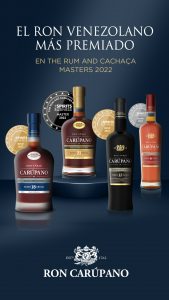 260 YEARS TRANSLATED INTO THE HIGHEST QUALITY
In 2022, the brand feels younger than ever, at 260 years old, which translates into tradition and Rum Mastery that are reflected in the more than 50 awards achieved throughout its history.
"Ron Carúpano represents Venezuelan tradition, culture and pride. There are 260 years of rum mastery embodied in a story that continues to fill us with momentum with each achievement. We are a brand with a luxury product that enhances our country and is a fundamental part of our identity," said Lucía Alliego, Ron Carúpano's Commercial Director.
To learn more about Ron Carúpano, its history and recognition, visit: www.roncarupano.com @roncarupano in all Social Networks.
If you want to know more information, you can ask at Qantima Group official email address i@qantimagroup.com
Discover the day to day of our company in our instagram.
Qantima Group, is a company that develops premium brands with a concept of exclusivity, quality and design, since 2012 we strive to bring the best concepts close to you.
---
Qantima Group
Related Posts