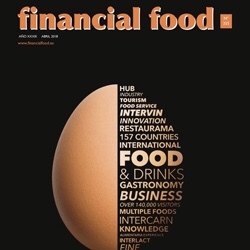 Financial Food Greenery By Sikkim Gin
May 18, 2018
by webqantima
Bares, Barman, Bartender, Celebrity, Craft Spirits, Creative, Distilled, Dubai, Fashion, Fashion Store, Lifestyle, Milan, People, Premium, Premium Gin, World´s 50 Bars
0 comments
Qantima Group it creates the first Gin of Apple
Financial Food Publishes this Sikkim Gin, article again to innovate with Sikkim Greenery,  A unique Gin in the world thanks to Its Flavouring and powerful apple flavor, distilled with high – quality oilings and cereals from England, with subtle refreshing notes mentholated and rounded with floral essences.
The first Gin of Apple's apple, complete the Sikkim Premium Gin family with three more varieties: Privée su London dry gin, Bilberry distilled gin with blueberries and berries, Fraise Distilled Gin with strawberries of the forest and blueberries.
From the Qantima Group hand, a company specializing in the development of premium beverages, Sikkim Greenery homagedly to the world of the cocktail world, opening up a possibility of possibilities to new combinations. Perfect to enjoy cocktails, offers new possibilities in mixology, with tonic neutral and basil or peppermint and mint.
The mixture of the base of the genevas Sikkim Gin, developed with red tea and floral essences, together with apples Granny Smith and golden macerated in mint, cilantro, calamo, iris and bitter orange skin, make Greenery an innovative and exceptional gin, fit for the most exclusive palates.
Thanks to the ancient copper alambiques built in 1875 and the perfect preparation of the distiller master, who has found the balance in the proportions of alcoholes and essences, this apple gin has been created with a graduation of 40º.
The entire line of Sikkim gin (Privée, Bilberry, Fraise and Greenery) has been developed with a red tea base from the Tibet area, in particular Sikkim, in India, where one of the best teas in the world is cultivated and that it was a door to the tea routes from China.
---
webqantima
Related Posts